Learning to fly
Flight has been quite the mystery to me for quite some time. I enjoy flying both as a passenger or pilot in command (while playing Microsoft Flight Simulator, of course). I've also purchased an E-flite Blade CX-2 RC helicopter so I could get my fix of RC flying. However this still didn't "quench my thirst" so to speak.
Two weeks ago I started ground school at Toronto Airways which operates out of Buttonville Airport(CYKZ) in Markham, Ontario. The course runs from February 14th to April 10th, twice a week, 3 hours per night. It is definitely a great way to get "back in shape" school wise. The lectures so far have been very interesting, covering topics from the parts of an airplane, theory of flight, air regulations, weather and so on. I am currently torn between getting my Recreational Pilot's license which allows one passenger and only day time flight, and getting my Private Pilot's license which allows the plane to be full with passengers and the addition of extra ratings (night rating, float rating, etc.)
Apart from the extra knowledge (and in some cases refresher), flight training also has given me the opportunity to acquire some gadgets. The most fun of which (so far) is my Vertex VXA-220 Transceiver.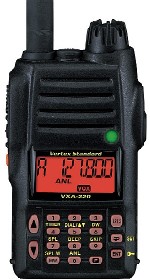 It's sitting right in front of me as we speak, tuned to Buttonville Tower on 124.800 MHz. I've been listening to ATC traffic all day and it's quite fun to hear all the commands and instructions given.Originally I was going to get just an air band scanner, but for the same price, this transceiver is a great addition as a backup radio.
I have a few more lectures to go, about four tests, an aviation medical and then about 60 hours of flying to do before I get my license. I can't wait to start my in-plane training! Most likely it will be a Cessna 172
but it may also be a Piper Cherokee.