Hamilton Air Show Map and Information
The Hamilton Air Show is only three weeks away and the folks at the Canadian Warplane Heritage Museum have released a map of the lay of the land for the two days of the air show.
I've taken the liberty of overlaying it on a Google Earth shot of the airport to give those of you familiar with the airport a better idea of where things will be and rough estimates of distances. Click the image to enlarge it.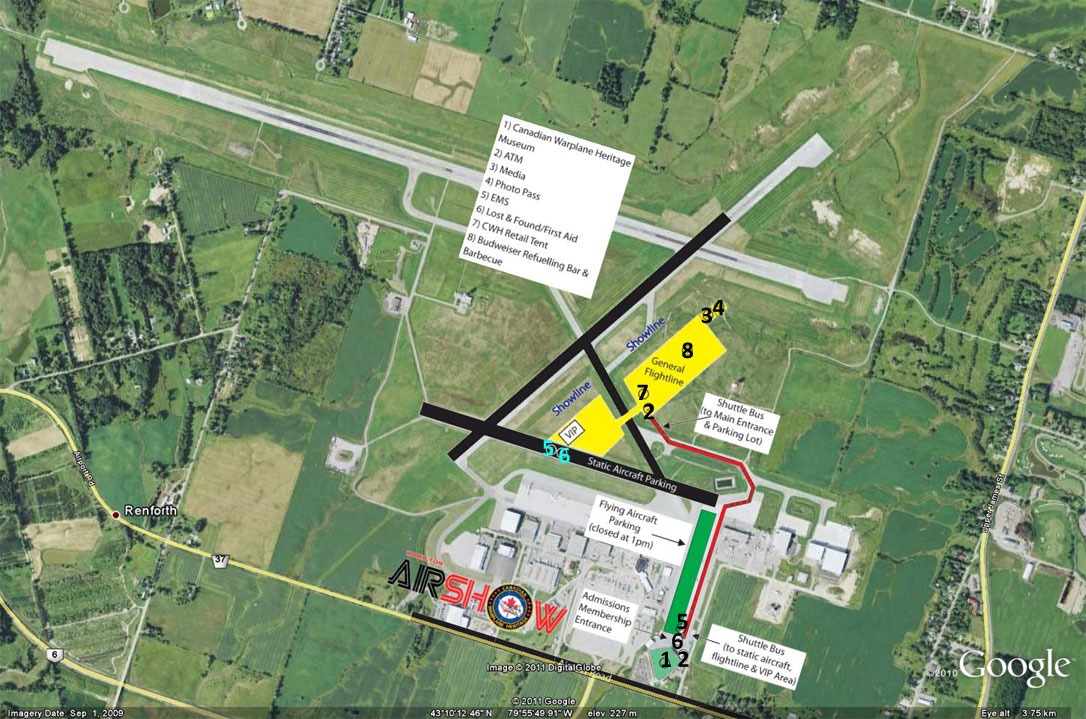 Some things to note when planning your day:
Active runway will be 06-24 and performing aircraft will be taxiing from the museum via taxiway C which splits the two (yellow) flight line areas
The static aircraft will be on display on the old 12R-30L runway
Performing aircraft parking will close at 13:00, one hour before the air display begins at 14:00. Static display aircraft will be available during the airshow
From the website: you CANNOT bring large coolers on the premises. Drinks and food will be available for purchase. All food vendors will be cash only. ATMs will be on site.
Gates open to the general public at 9AM each day. General admission parking is situated approximately 3 KM with a free shuttle provided. There will be signs posted directing you to the parking lot and I will try to find a map of that as well. For those of you taking public transit, the HSR will be running its A line shuttle from downtown Hamilton to the airport with a few stops along the way. Check out the links on this page for more information.
I am working on a post with tips on making the most of your day at the Hamilton Air Show. Keep an eye out for it in the next week or so.
The map as released by @CWHM on Twitter can be found on TwitPic and I've linked to it below.
Update May 27: I've noticed a few searches for the parking area (I'm assuming for visitor's cars). As of now the word is that there will be signs posted to let you know where to park. I have asked @CWHM where parking will take place and I am waiting to hear back. As soon as I know I will post the information. Stay tuned!