Hamilton Airshow Airspace Restrictions (NOTAM)
NOTAM stands for Notice To Airmen and is used to warn pilots of hazards or restrictions put in place. In the case of the Hamilton Airshow it is used to inform pilots that the airspace around Hamilton airport (CYHM) will be restricted and that they need special permission to enter. You can find the NOTAM on AWWS and currently it reads:
1

110390 CZYZ TORONTO FIR


2

CZYZ PURSUANT TO SECTION 5.1 OF THE AERONAUTICS ACT, AIRSPACE IS RESTRICTED WITHIN 7 NM RADIUS OF HAMILTON AD (431023N 795606W) SFC TO 6000 FT MSL. EXC FOR AIRSHOW PARTICIPANTS NO PERSON SHALL OPR AN ACFT WITHIN THE AREA DESCRIBED EXCEPT AS AUTH BY AIRSHOW CONTROL, BILL SNELLGROVE 705-790-2373, OR ATC ON 125.0 1106171400-1106172100, 1106181600-1106182100, AND 1106191600 TIL 1106192100

The area centred at CYHM with a radius of 7NM (approximately 13km) is restricted up to 6,000 feet above sea level. To operate an aircraft in this area you must obtain permission from Airshow Control or ATC (contact information above). The NOTAM (and thus the restriction in airspace) is in place on the following days:
Friday June 17, 2011 from 1400Z to 2100Z (10:00 to 17:00 EST, local time)
Saturday June 18, 2011 from 1600Z to 2100Z (12:00 to 17:00 EST, local time)
Sunday June 19, 2011 from 1600Z to 2100Z (12:00 to 17:00 EST, local time)
I've plotted the area covered by this NOTAM on a map to give you an idea of location and extent of the restricted airspace.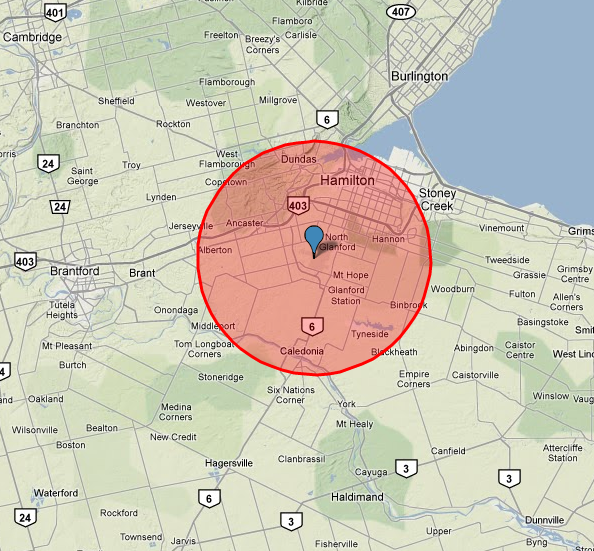 Less than four days to go until the airshow!
Note: the information above is current as of June 14, 2011 at 8:30 AM EST and will not be updated. Do not rely on it for navigation. It is meant as general information only.